New Product: Bitburger Premium Kellerbier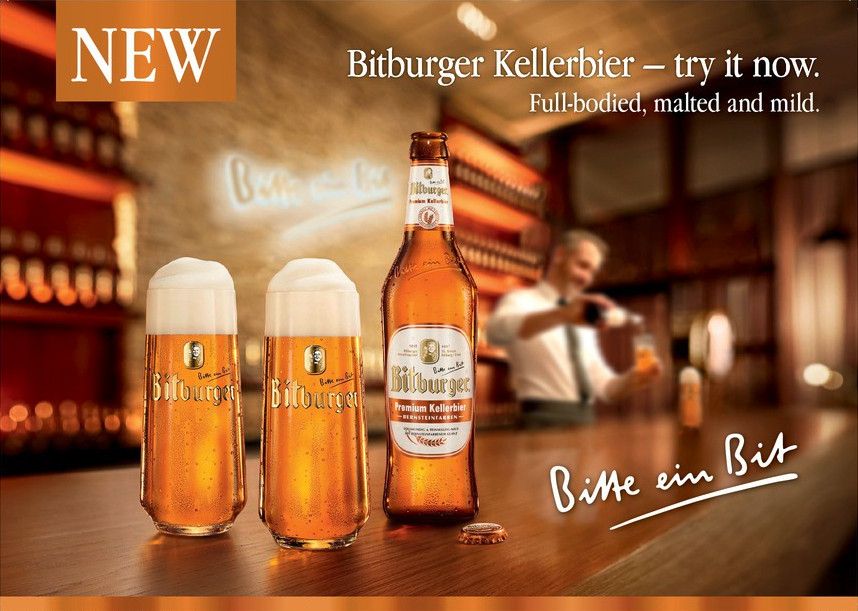 Kellerbier, unfiltered and pure, is in. Drawing on the experience and passion that marks its 200-year brewing tradition, Bitburger has brewed an enticingly flavorful, amber Kellerbier from a specially-selected malt composition of pilsner, Munich, and caramel malt varieties. By creating its Kellerbier, Bitburger has given new impetus to the market. Bitburger Premium Kellerbier has been available since March of this year.
The golden-red Bitburger Premium Kellerbier pours into the glass with an amber glow. Its cream-colored, fine-pored foam and malt aromas are a feast for the senses. Light and refreshingly lively at the tip of the tongue, the beer creates a balanced composition of malt and caramel aromas and a pleasantly bitter taste that goes down smoothly. As a result, Bitburger's Premium Kellerbier has a fine, mildly malty flavor that offers, in particular, connoisseurs of less bitter beer types a full-bodied taste experience.
The combination of high-quality raw materials and a brewing process that uses the latest technology give the new Kellerbier its typical amber color and savory aroma. "We don't compromise when it comes to the quality of our products. Naturally, the same applies to our Premium Kellerbier. Our goal, which we have pursued with a passion for the past 200 years, is simply to brew one of the best types of beer," Dahm adds.
* In partnership with distributors Benediktiner Weißbräu GmbH