Creativity Knows No Bounds – Insights from Our US Partner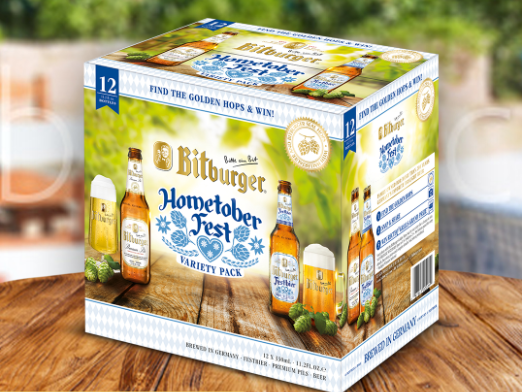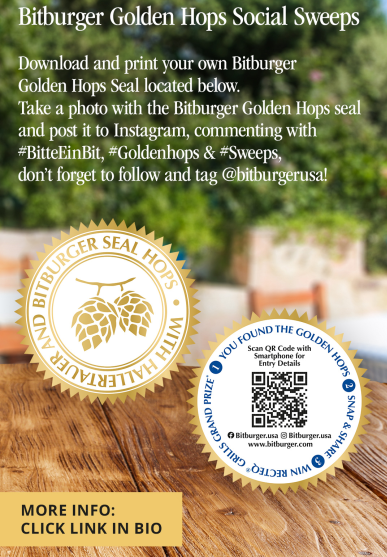 As we shared here, our Marketing Toolbox presents you with a treasure trove of professional marketing support and solutions – including the power of using and sharing best practices across the Bitburger partner network. Here, we take a look at the US market and present a unique use case:
Bitburger is known as one of the fastest-growing brands of import beers in the US – and the Bitburger success story in the States is due in part to the creative and targeted marketing efforts of our partner St. Killian Importing, who promotes Bitburger and Köstritzer products specifically to the tastes of the US market. In line with St. Killian's recent beerfest/Oktoberfest sales promotion, beer fans could take part in a fun competition after buying a twelve-bottle promo pack of 12 bottles Bitburger Pils and Bitburger Festbier and then finding the "Golden Siegelhopfen." Taking a photo with the Siegelhopfen, they could then post and share it on Instagram (with the hashtag #goldenhops) – and enter a competition to win attractive prizes (such as a VIP trip to Rec Teq campus). The promotion was highly popular across the fun-minded target group: pushing sales through a combination of clever retail branding and social media promotions is a surefire recipe for success in this age! In the run-up to this promotion, intensive coordination took place with Bitburger Marketing in order to implement an attractive brand presence and successful POS placement.
Which marketing best-practice stories do you have to share? We want to hear them – just get in touch!
Download News as PDF
* In partnership with distributors Benediktiner Weißbräu GmbH