Bitburger Brewery Group Portfolio Update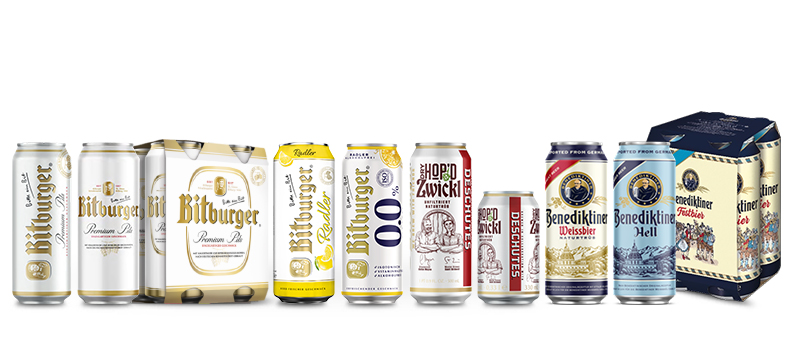 There's never a dull moment at Bitburger Brewery Group in terms of product innovations, design relaunches, and rebranding. Here's a rundown of what we have for you in the pipeline.
Design Relaunch of Our Bitburger Cans and Multipack Outer Packaging
The cans and multipack packaging of our Bitburger Premium Pils, Radler, and Radler 0.0% will undergo a design relaunch in 2022. There will be a new horizontal logo design on the front, and the cans will also feature a new sleek and matte finish.
Timing: January/February 2022 for the US (other products to be included gradually in the relaunch).
Bitburger goes green! For our 4- and 6-packs of 0.5 l and 0.33 l cans, we'll be getting rid of the plastic film packaging in our multipacks and replacing it with a more eco-friendly cardboard packaging instead.
Timing: gradual replacement throughout 2022.
Bitburger × Deschutes Dry Hop'd Zwickl Collaboration​ Beer
"We brew with friends" – we are pleased to be continuing a great brewing partnership with US brewery Deschutes to present Dry Hop'd Zwickl, a limited-edition collaboration beer. Enhanced with US hops, this Zwickl-style beer is intriguingly smooth but with an intensive hops flavor.
In terms of communication, we are coming up with a comprehensive digital communication concept with a focus on authentic moments that communicate a passion for brewing, an innovative spirit, and family brewing. Get in contact to use this communication to boost this limited launch in your country as well!
Available in the US as 4-packs of 0.5 l cans and as a 50 l keg; elsewhere as 6-packs of 0.33 l cans and as a 30 l keg. In the market from March 2022 onwards.
Benediktiner Can Design and Can Pack Relaunch
Get set for a new look – our Benediktiner Weissbier Naturtrüb and Benediktiner Hell 0.5 l cans will also undergo a design relaunch. And we will do away with plastic film packaging for our four-packs and replace it with the more sustainable alternative of cardboard.
Available: gradual replacement throughout 2022.
* In partnership with distributors Benediktiner Weißbräu GmbH