Celebrity Chef Christian Henze has a Summer Recipe for Us - Chef - and Athlete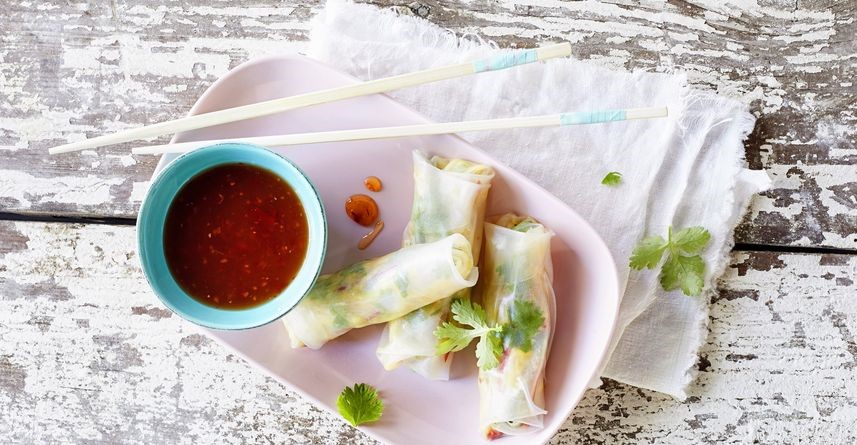 He's a TV chef, writes books, and runs his own cooking school. But not everyone knows that he is a sports enthusiast. Running and mountain biking are his passion and help him stay to counter his stressful professional life. He doesn't believe in dieting, relying instead on a balanced, healthy, and conscious diet.
And that includes the quality of the food. His first commandment is "enjoy sensibly." Today, he will share with us a recipe that he also cooks in his show*: the veggie summer roll. It's healthy, easy to prepare, and very delicious!

My Veggie Summer Roll
Makes two servings
150 grams white cabbage
2 tbs rice vinegar
2 tbs roasted sesame oil
1 pinch of salt
2 tbs cashews
¼ mango
¼ avocado
½ red chili pepper
2 tbs sweet chili sauce
1 tbs coarsely chopped cilantro
4 - 8 rice leaves
Preparation:
Finely shred or finely cut the white cabbage with a knife. Mix with vinegar and sesame oil, add a pinch of salt, and knead with hands to make the cabbage soft and smooth.
Dry-roast the cashews in a pan without oil. Remove them immediately and let them cool down before chopping them up.
Remove the pits from the mango and avocado and peel them. Remove the seeds from the chili pepper. Cut everything into slices. Mix the cabbage, nuts, mango, avocado, chili pepper, and cilantro.
Pull the rice leaves through cold water, spread with the white cabbage mixture, and roll up. Place the rolls in an oiled can for transport. Pour the sweet chili sauce into a screw top jar and serve with the summer rolls.
We hope you have fun preparing them. Enjoy!
* In partnership with distributors Benediktiner Weißbräu GmbH