Awards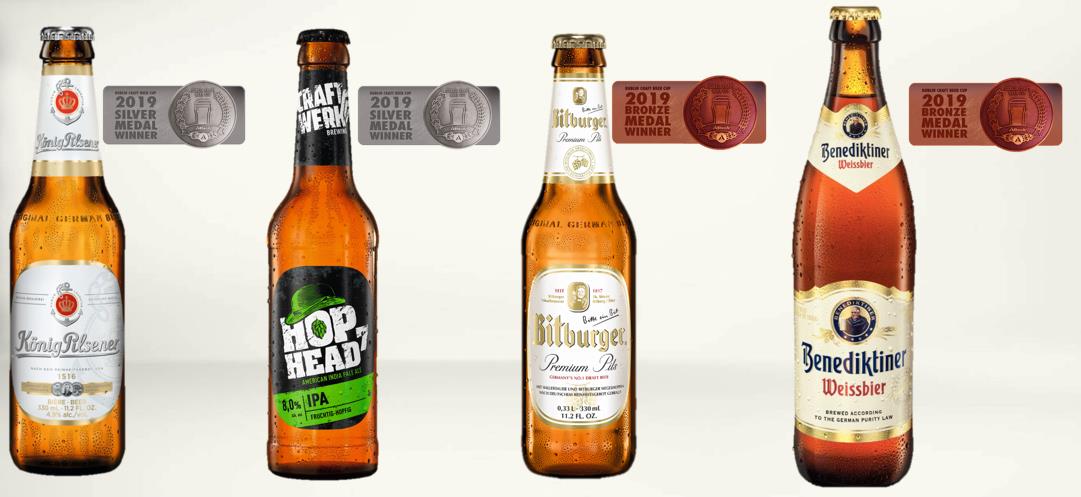 At the recent Dublin Beer Cup Award, ambitious brewers had the opportunity to have their craft beer creations judged by an international jury. Particular emphasis was placed on the colour, aroma, taste, style and quality of the beers. We are delighted to announce that several of our entries have received a medal. We introduce these medal winners below:
König Pilsener
Beer type: A well-balanced pilsner with an intense flavor but a delicately subtle overall impression
Color: A radiant gold-yellow with long-lasting, white, finely latticed foam
Aroma: A nuanced aroma full of fruity, floral and sweet toasted aromas reminiscent of yellow apples, white bread, corn flakes and blooming alpine herbs
Taste: An elegant effervescence gives way to malty sweetness intermingled with the delicate bitterness of herbs, finishing with a pleasant aftertaste.
Craftwerk Hop Head 7
Beer type: An India Pale Ale with a refreshing fruity, bitter intensity
Color: An golden orange honey color, deep and opaque, with a buoyant, light cream-colored head of fine foam
Aroma: Intensely fruity with aromas of papaya, passionfruit, ripe golden apples and cloves, complemented by a spicy hoppiness
Taste: An assertive effervescence with a gracefully sumptuous liveliness greets the palate followed by punchy fruitiness, the juiciness of grapefruit, the serene freshness of apples and the soft sweetness of honey. The sustained bitterness comprises nuances of hops and wormwood and brightens the palate with an invigorating lightness and a refreshing intensity.
Bitburger Pils
Beer type: A gracefully slender pilsner that combines intense flavor with a light elegance.
Color: A striking bright gold-yellow with lasting foam which is white with a fine lattice structure.
Aroma: The bouquet is clean and elegant with a delicate fruitiness reminiscent of honey, ripe grain, white bread and aromatic alpine herbs.
Taste: On the palate, a fine liveliness brings forth mild fruitiness and freshness with a hint of malty sweetness yielding to a crisp hop tone and ultimately a harmonious finish
Benediktiner Weissbier
Beer type: A refreshing and assertive Weissbier exhibiting a rich and supple elegance
Color: An opaque orange-golden honey color with pale foam - stable and fine
Aroma: Tartness commingles with sweet aromas of dark honey and ripe grains, invigorated by a piquant spiciness from which orange peel, Alpine herbs, hops and cloves emerge.
Taste: A lemony effervescence and gentle liveliness reveal a full-bodied flavor awash in exhilarating tension between freshness, malty sweetness and faintly bitter notes of orange peel, Alpine herbs and subtle toasted flavors.
* In partnership with distributors Benediktiner Weißbräu GmbH