Bitburger Brews with Deschutes from Oregon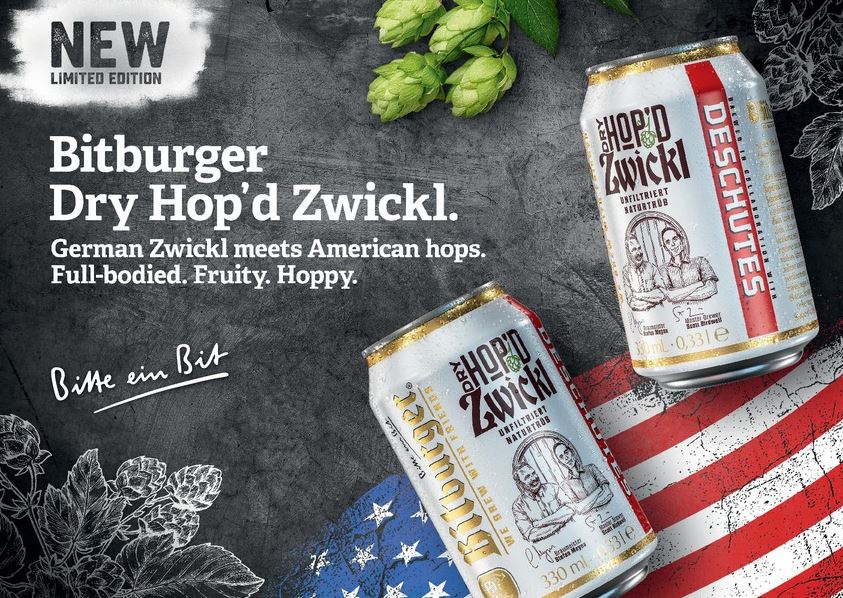 With Dry Hop'd Zwickl, Bitburger is launching a new collaborative beer. Created in partnership with US brewer Deschutes, this naturally cloudy Zwickl beer is triple hopped and has a fruity and hoppy flavor with a 4.9% ABV. Symbolic of the intercontinental brewing friendship, the Zwickl is brewed in Bitburg in the classic German beer style using the American Citra and Mosaic aromatic hop varieties from the Yakima region in the United States as well as Bitburger Siegelhopfen from the Eifel National Park.
"We share a lot of values with Deschutes, and we also have a similar philosophy, which is why the collaboration has worked so outstandingly," says Brew Master Dr. Stefan Meyna. "Just like we do, Deschutes think it is important to only use the highest-quality ingredients and investing a particularly long amount of time and great care when brewing their beers."
The Dry Hop'd Zwickl is the second collaborative beer brewed in Germany and distributed by Bitburger with an American brewery. The collaboration came about as a result of the Bitburger Challenge in the USA in 2019, where the task was to brew an especially good German Pilsener. Deschutes beat the competition, winning the cooperation with Bitburger. The limited-edition beer specialty is available in 0.5 or 0.33 l cans and in 50 or 30l kegs in selected chains and restaurants.
About Deschutes Brewery
Founded in the US state of Oregon in 1988 as a small brewing pub, the Deschutes Brewery is now one of the ten biggest craft beer breweries in the United States. The portfolio includes a wide variety of different beer styles from India Pale Ale to sour beer to Pilsener, which is less common in the USA.
* In partnership with distributors Benediktiner Weißbräu GmbH