The (Bitter)Sweet Taste of Summer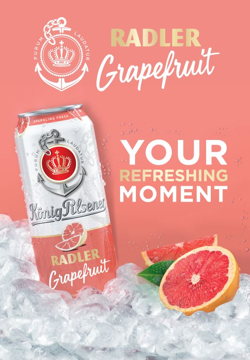 König Pilsener, one of Germany's leading brands for pilsner beer, is set to launch its latest addition in the US this summer: König Pilsener Radler Grapefruit. Produced at the company-owned König Brewery, this fruity and not-too-sweet malt beverage blends the mildly bitter taste of German premium pilsner with the refreshing and tart flavor of grapefruit lemonade. With an ABV of approx. 2%, it makes for the perfect summer refresher.
What's more, this latest taste sensation is available in a four-pack carton of 0.5-liter cans. These sleek-looking cans feature grapefruit hues of orange and pink, reflecting the beer's fresh and fruity flavor. The new addition will be on shelves in both retail and on-premise outlets this summer – just in time for the warm and sunny weather, and as the perfect companion to our top-rated König Pilsener.
You can read more about König Brewery and König Pilsener here.

* In partnership with distributors Benediktiner Weißbräu GmbH