Bitburger Brewery Group Portfolio Update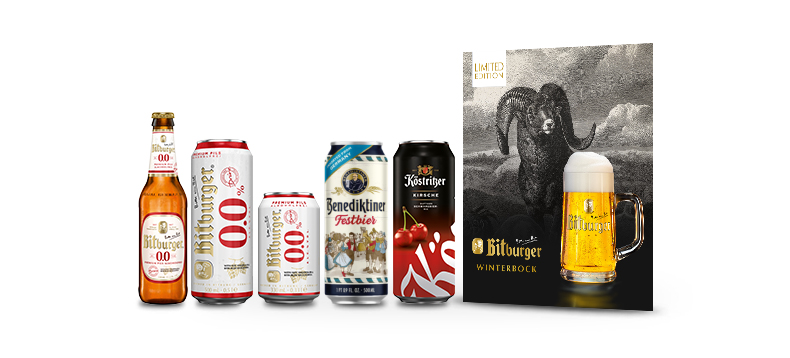 As an eventful year draws to a close, we'd like to share the highlights of our range of premium beers as well as some of the key changes that took place in packaging and design.
Design Relaunch of Bitburger 0.0% Drive Alkoholfrei
Due to strong international demand, we have relaunched the design of the Bitburger Pils 0.0% Premium Pils Drive Alkoholfrei packaging. At the same time, the previous design of the Bitburger 0.0% Pils Alkoholfrei (blue) cans and bottles has been replaced by the red design. For us, the continued development of this segment has been dictated by strong market growth in nonalcoholic beers. A great choice not only for those behind the wheel: Bitburger Premium Pils Drive Alkoholfrei 0.0%.

Timing: throughout 2021 (gradual design relaunch).
Launch of Bitburger Winterbock (in Kegs)
Our Bitburger Winterbock beer is a real success story in Germany – only weeks after it was first launched on the market, accompanied by a strong advertising campaign with its own TV commercial and numerous eye-catching billboards, the beer was already completely sold out. Bitburger Winterbock is now finally available in kegs for our customers worldwide. Check it out here: Bitburger Winterbock.

Only available in kegs since October 2021.
Benediktiner Festbier
A seasonal beer that was previously only available in a few countries is now available in cans for even more countries! With its fine malty aromatic taste and intense golden-yellow color, Benediktiner Festbier is highly popular among beer fans. Brewed according to the original Benedictine recipe in Lich for Benediktiner Weissbräu GmbH, Ettal, the aroma notes of the Ettaler Keller yeast combined with a soft hop bitterness make the Benediktiner Festbier a great taste experience.
Available for international markets facing longer transportations in 0.5 l cans and in kegs since May 2021; elsewhere since August 2021.
Launch of Köstritzer Kirsche
Presenting the latest refreshing creation from our Köstritzer master brewers: Köstritzer Kirsche, a full-bodied beer specialty composed of Köstritzer Schwarzbier with a subtle, fruity cherry flavor. The taste is a combination of a slightly bitter, spicy black-beer note and sweet cherry nuances. Balanced malty, sweet, and bitter tones are rounded off by a delicately sparkling carbonic acid and a long-lasting, fine-poured foam crown. A unique beer that is surprisingly fruity on the palate – definitely the cherry on top of our current range!

Available for international markets in 4-packs of 0.5 l cans (all year round).
* In partnership with distributors Benediktiner Weißbräu GmbH