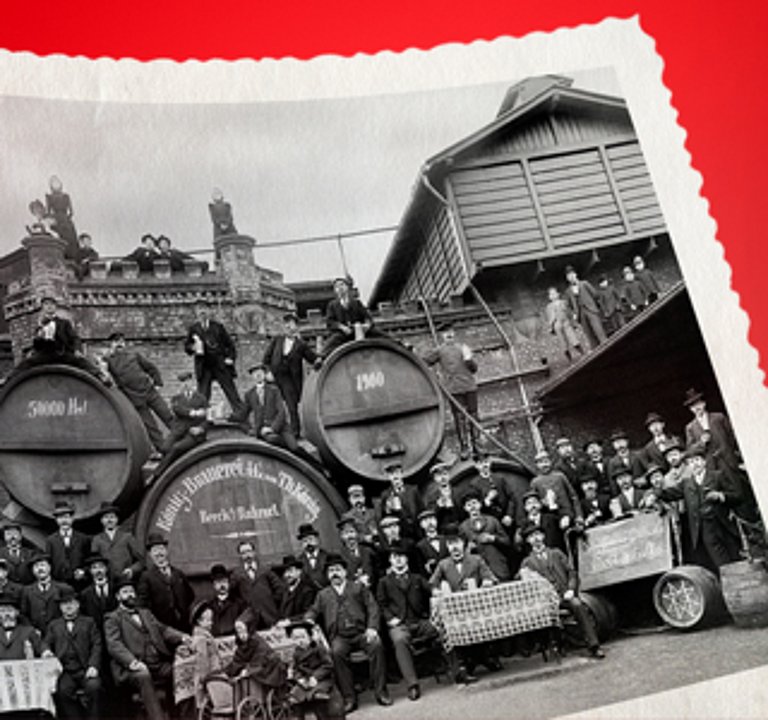 The König Brewery – Traditional Pilsener That's Fit for a King
Looking back on over 160 years of traditional brewing, the König Brewery has a lot to be proud of. The brewery has called the town of Duisburg its home ever since it was founded by Theodor König in 1858. As early as 1911, Theodor König decided to branch out from top-fermented beers, and started producing beers with the more elaborate pilsner brewing method. Ever since then, the König brewery has been brewing pilsner to the highest standards, following the German Beer Purity laws by using only carefully-selected hops, special König yeast, the best malted barley, and outstandingly pure water from a nature conservation area.
Brand Relaunch Anchored in Traditional Roots

König Pilsener reveals a new, modern design. The biggest change is the logo, where the crown is now joined by the anchor that was part of the beer's branding until 2003. The combination of crown and anchor symbolises König Pilsener as a down-to-earth brand producing premium quality.

Premium Hospitality Partnerships

König Pilsener goes hand-in-hand with first-class ambiance and leading hospitality. Numerous German restaurants, as well as 4 and 5-star hotels, trust the high quality beer produced at the König Brewery in Duisburg. Our premium pilsner is served in many esteemed establishments, such as the Hotel Grand Elysee in Hamburg, the Hotel Vier Jahreszeiten in Hamburg and Munich, and also on luxury Hapag-Lloyd cruise ships.


International Exports

König Pilsener is available in more than 40 countries. The beer, which at first was mainly exported to traditional German tourist regions such as Italy or Spain, has also been experiencing steadily rising sales in China and North America in recent years.

Stronger Together

Since 2004, the König Brewery has been part of Bitburger Brewery Group.

Market Leader

The König brewery is the market leader of Pilsener beers in Germany.

Record Breaking & 1st National Advertising Campaign

Annual output from the brewery reaches one million hectolitres. In the same year, the brand's first national advertising campaign is launched, using the slogan "Brewed with care for generations".

Steady Expansion into the National Market

Due to its increasing fame, the König brewery decided to extend distribution to beyond the Duisburg area.

König Pilsener

The name 'König Pilsener' is chosen.

König Brewery Founded

The brewery is opened in Duisburg, Germany, by Theodor König.
* In partnership with distributors Benediktiner Weißbräu GmbH