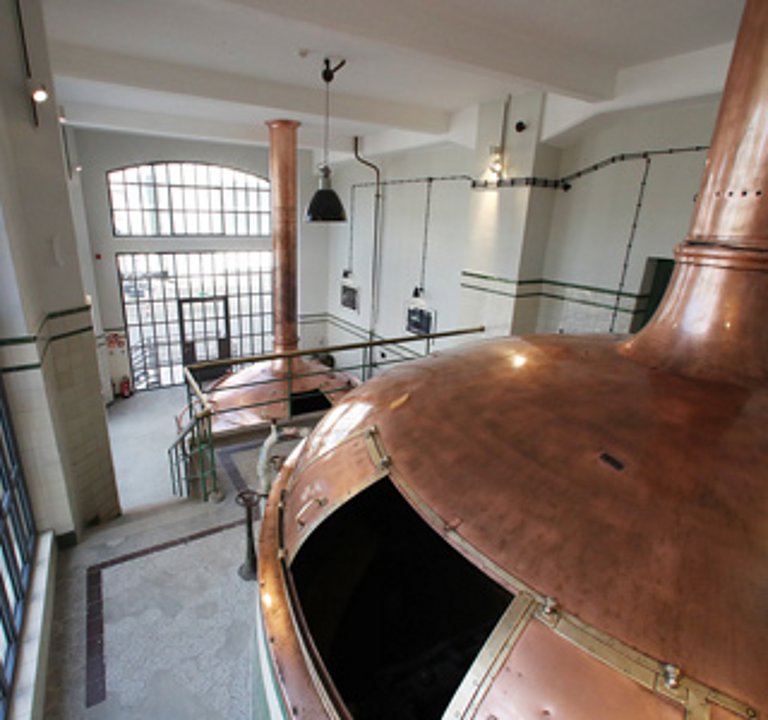 Köstritzer Brewery – Home to Germany's Favourite Dark Beer
Mentions of the Köstritzer brewery and its dark beer can be dated back as far as 1543. Known as the 'Köstritzer Erbschenke' back then, the brewery has had its home in Bad Köstritz in Thuringia (central Germany) ever since. It is now one of the oldest and most important breweries in Germany. The brewery shares its name with its most famous product: Köstritzer Schwarzbier – a beer that has made a name for itself well beyond the borders of Thuringia and Germany. Köstritzer Schwarzbier is not only the market leader for bottom-fermented dark beer in Germany, it is also exported to over 50 countries.
Restoration of the Brewery Building

The historical building stretches over three stories: the restored wort boiling pan and lautering tun are on the ground and first floors, and the machinery for powering the machines can be found in the basement.

New Tanks for Fermentation and Lagering

New equipment brings the brewery to its next technical milestone, investing further in specialty beers. The super-modern tanks are all 14 meters tall, weigh 12.7 tons, and have an external diameter of 4.4 meters.

German Chancellor Angela Merkel Visits the Köstritzer Brewery


During her election campaign tour, Angela Merkel stopped by the Köstritzer Brewery on 15th September. During her visit she sampled a glass of Germany's most popular dark beer, raising her glass for a toast with the 6,000 guests.

20 Years as Market Leader!

Ordering a dark beer? It has to be Köstritzer! Well-known for its unique taste and slightly effervescent character, the speciality beer represents quality, enjoyment and soulful moments like no other beer. That's why customers stay faithful to Köstritzer. The result: this traditional speciality beer from Bad Köstritz has been market leader for dark beer in Germany for over 20 years now.

Köstritzer Goes Global

Köstritzer is exported to more than 50 countries around the world, with international sales almost doubling in the last three years. Demand for Köstritzer is booming, particularly in China.

Market Leader for Dark Lager

Köstritzer starts to be distributed country-wide in Germany from September 1993. Only two years later, Köstritzer Schwarzbier became the market leader for bottom-fermented dark lager in the whole of Germany.

Acquisition by Bitburger Brewery Group

The Köstritzer Brewery has been part of the Bitburger Brewery Group since 1991, and within a few short years became one of the largest and most modern brewing facilities in the state of Thuringia.

Famous Fans

19th Century Increasing Brand Recognition
Köstritzer has made lots of friends over the years. From rural villagers to big names (such as Goethe and Otto von Bismarck), no one in Germany is immune to its charm.

First Documentation

Mentions of the Köstritzer brewery (back then known as 'Köstritzer Erbschenke') and its dark beer can be dated back as far as 1543. This makes it one of the oldest breweries in Germany and one of the few that have continuously produced dark beer throughout its history.
* In partnership with distributors Benediktiner Weißbräu GmbH